About
Biography
Tim Benjamin is a composer of music for TV and film, and is also well known for his work in opera, including the critically acclaimed RIP and Silent Jack (presented together as Life Stories, 2015), Madame X (2014) and Emily (2013), along with music for the concert hall, including a substantial body of chamber music and the large-scale oratorio Herakles (2016). He is also a director for stage and screen, a writer, and a public speaker.
"Tim Benjamin gives a masterclass in how to create a one-handed opera twice over in his Life Stories ... If Harold Pinter had ever written an opera, this would surely be it." — Bachtrack on Life Stories at Tête-à-Tête, July 2015
Opera and theatre
With his company Radius he has created operas including The Corley Conspiracy (commissioned by and first performed at the 2007 London Design Festival), Le Gâteau d'Anniversaire (commissioned by CNIPAL and first performed at Opéra de Marseille), Mrs Lazarus (first performed at the Southbank Centre, London), and A Dream of England (first performed at Wigmore Hall, London), and The Rosenhan Experiment, first performed in London (South Bank) in 2008 and on tour, revived in 2013 with a new orchestration, and touring nationally in recent years with Madame X (2014) and LIFE STORIES (2015).
Film and TV
Tim has composed the soundtrack for a number of films, including the multiple award winning Little Thief (Essay Pictures).
Beyond composing, Tim also directs for the screen, having set up the film company East View Film in 2017, with the debut short film Meet Your Keeper featuring at festivals and screenings internationally.
His work for TV and other commercial media includes award-winning production music for several major labels including Sony EMI, and his music is often used for TV programmes and adverts.
Find out more: Tim Benjamin's Film and TV showreel
Electronica
Tim performs as a solo electronica artist, offering a distinctive style of jazz-infused, richly textured and organic-sounding electronic music. The music originates from sources such as natural and mechanical sounds, collaborations with acoustic performers, and Tim's own (largely hand-made) modular synthesizer. See also the Discography for details of Fractures (2015), Distances (2016), and Nihtgale (2017).
Awards
A relatively recent arrival to the production music industry, Tim won the Production Music Awards / PRS Foundation "Best Newcomer" award in 2017, for his album Cinematic Piano for JW Media Music (Press Release).
Read more about and hear Tim Benjamin's award-winning work in production music
Tim won the BBC Young Musician of the Year Composer's Award in 1993, at the age of 17, with his work Antagony, practically scored for two large wind bands, amplified strings, and six percussionists, yet somehow brilliantly performed by the London Sinfonietta under Martyn Brabbins and broadcast on national radio and TV. He also won the Stephen Oliver Trust's Prize for Contemporary Opera in 1996, for his first opera The Bridge, which has been produced twice, in Manchester at ISCM World Music Days and in London at the Covent Garden Festival.
Also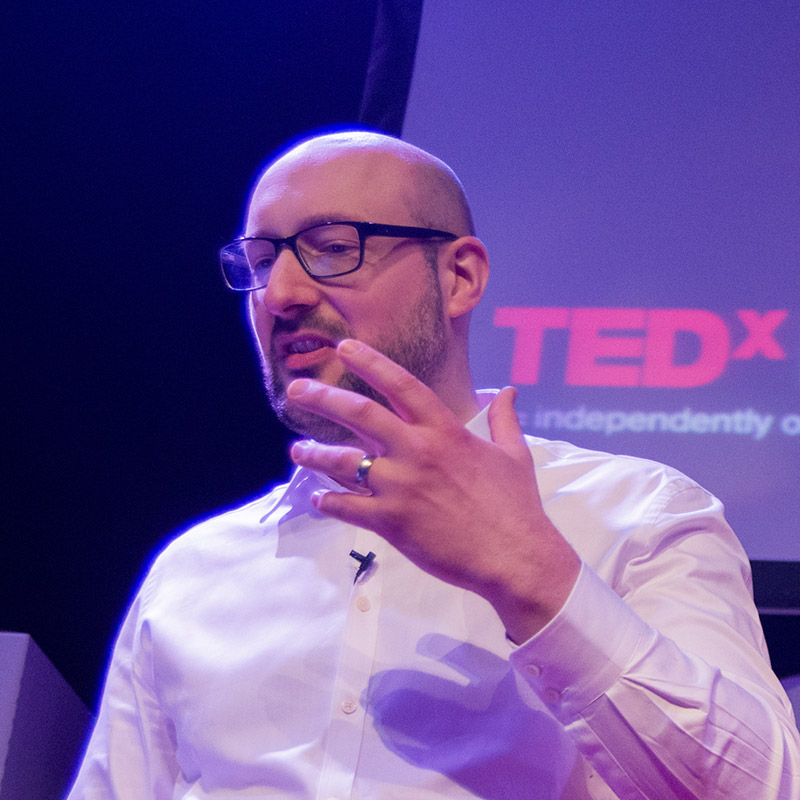 Tim is a regular writer and speaker on music and related subjects, appearing at TEDx in 2015. He also teaches music theory, examines music theory for the ABRSM, and serves on the jury of the George Enescu International Competition. He is the Artistic Director of the opera company Radius and also plays trombone, piano, organ and viola. In his spare time he climbs mountains, grows organic vegetables, and fiddles with electronic circuits, although never simultaneously.
Academic
Tim Benjamin studied composition with Anthony Gilbert at the Royal Northern College of Music (BMus Hons 1st class), privately with the late Steve Martland (in whose memory he created and funds the Steve Martland Scholarship), and with Robert Saxton at Oxford University where he received a doctorate (DPhil Oxon; his thesis was Economics of New Music). He previously attended Christ's Hospital in West Sussex.
...and here's some trivia
Founded a software company in 1999, sold out to a VC (but is not a dot com millionaire by any stretch)
Once stood for election to local government but got nowhere (and a good thing too)
Played bass in a punk band called Monkfish
Tweets as @timthecomposer
Demo / Showreel
My film/TV commercial showreel is here, alternatively much of my non-commercial work has audio / video and can be found by browsing the database.
Discography
In addition to Spotify etc, These albums are also available via Bandcamp.
Commercial / production music
Please see here for production music releases.
Video intro
Here is a short (and not very serious) video made for the New Music North West festival, as an introduction to my music. The soundtrack is a clip from In Memoriam Tape Recorder.
Contact
Contact details are here, or alternatively why not connect on LinkedIn or Twitter (@timthecomposer)?
---
This information may be freely reproduced for concert programmes, etc, but if you would prefer something more personal or less formal, please contact me!